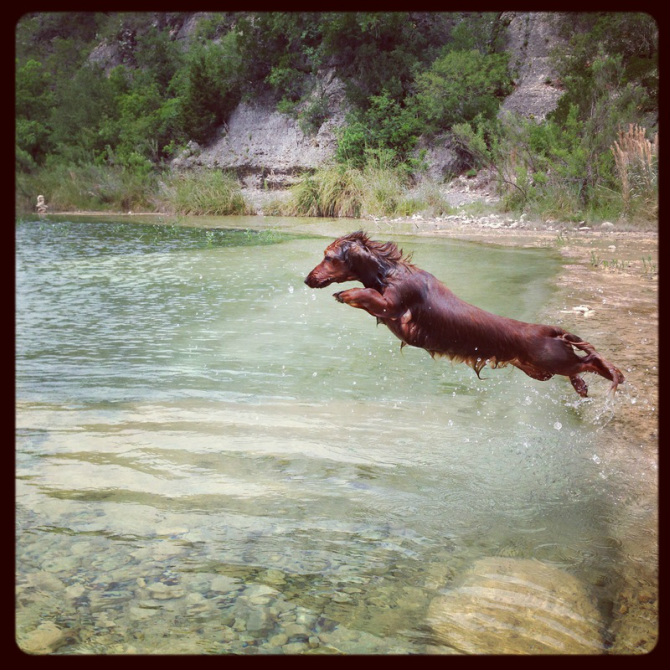 Our Story

We decided to become a breeder of miniature red longhaired dachshunds when we wanted to breed our wonderful Zuri (Jinsey vom Hoppiho). We searched and searched for an acceptable stud. We found the North American Teckel Club which is a part of the German Dachshund Club also well known as DTK 1888 e.V. Deutscher Teckelklub. Zuri was born and purchased in Switzerland and has a FCI pedigree. All of the NATC/DTK member dachshunds also have the DTK pedigrees. The dogs in the NATC are imported from Europe or are puppies of imported dogs. We began a journey to qualify to be a DTK breeder. We had to qualify our Zuri to a German DTK Judge at the NATC dog show for conformation and temperament. She has the highest rating of Excellent for conformation and temperament. We did DNA testing and received a DTK Breeders card. We are breeder number 21 and with 9 specific dachshund breed types, you can see that we are in a very select group here in the states.

We would like to introduce our breeding dogs.

Uriah Heep von Damsmuehle, four years old male, Kaninchin Longhair Red, we imported from Berlin has these honors: EJS 2011, DtJCh VDH 2011, DtJCh 2011, WUT-JCh 2011, LJS 2011, KJS 2011.

Cain Ranch's Abigail, aka Penny, under 2 years old female, Kaninchin Longhair Red from parents Jinsey vom Hoppiho and Angus von der Heckenrose. She has the second highest rating of Very Good for conformation and temperament. She was recommended by the DTK Judge for Kaninchen breed due to her Kaninchen features and chest size at fifteen months. The Very Good is the highest score for this process. We are hopeful she can reach Excellent at the next show for conformation as Kaninchen.

Diva van de Laerhoeve, female Standard Longhair Red under 2 years old, we imported from Holland. Her parents, Daisy of Ivy's Hill, Nederlands Kampioen, and Watson von der Taunushöhe, who has many champion credits including German and WUT champion, 2013. The standard breed is the largest pedigree breed of Dachshund of the DTK. Diva now has her DTK pedigree and the highest rating of Excellent for conformation and temperament by a German DTK Judge

If you would like to have a future Kaninchen, Miniature or Standard longhaired red dachshund puppy. Contact us so we can interview and add you to our waiting lists. We will only have a litter with firm commitments for a puppy. We can better plan whether and when to have a litter. We currently have one Miniature litter available of two females and two males from parents Zuri and Gunther. We only have a one Standard litter planned for 2017 and that is dependent on an adequate waiting list. So please let us know! We are located in San Antonio, Texas and our dogs live with us in our home. We arrange for pick-up or delivery without shipping. All puppies must stay until the DTK Litter Inspection and so are not available until 8 to 10 weeks and have had the second series of puppy shots for their safety.

​